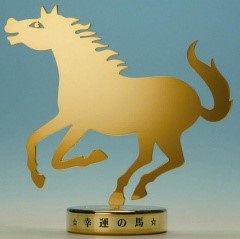 Characteristics
A golden color horse statue attracting luck. It is a charm for prosperous business and good fortune with which one can live "well ("uma"ku in Japanese. It has a double meaning as the horse is "uma" in Japanese.) without tripping. The design is a horse that is about to start running toward the future at full sail with his tail up. You may attract good fortune by petting his 8 manes.
Specification
Plated with 24-karat gold
Small size: 50 mm width /50.5 mm height sizes of the pedestal: 50 mm width /15mm depth/14 mm height
Large size: 230 mm width /200 mm height sizes of the pedestal: 20 mm width /20mm depth/30 mm height
"Koun-no-uma" is an in-house product by laser processing. We have already received more than 7,000 orders. Some have been dedicated to Mitsumine Shrine of Chichibu City.
| | |
| --- | --- |
| Products | Koun-no-uma (or Lucky Horse) |
| Price | 3,000 yen - 50,000 yen |